Biography
Sophie Chicoine has been offering fitness classes for twenty years now. Formerly a professional dancer and classical ballet instructor, she decided to develop her own technique when she could not find a fitness class that suited her. Combining her various physical fitness trainings with her dance experience, Sophie created three popular programs:
Flex-Fitness, StretchXtra and Dynamo:
Flex-Fitness, a program combining exercises precisely planned to both elongate and strengthen your muscles;
Dynamo© a class that allows you to explore different dance styles while doing your areobic exercises;
StretchXtra©, a full flexibility program aiming at gaining a significant improvement in your general physical suppleness.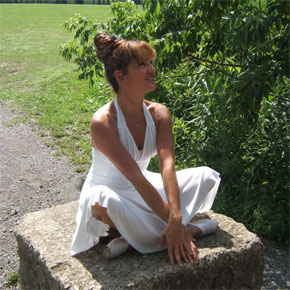 All of these training methods aim at the same goal: to greatly ameliorate your coordination, suppleness, strength and cardio-respiratory endurance while recovering a good posture. Each method is open to all levels, and not only will it helps diminishing your chronic pain, but it will also help you recover a healthier general physical condition.
Sophie started dancing at 10 years-old and studied various dance styles such as: Classical Ballet, Contemporary dance, Danse de charactère, Modern dance, Ballet-jazz, Latin dances, African dance, Flamenco, Fusion-dance, Fluidance and Partenariat. Her training came from the best schools in Quebec, as Les Grands Ballets Canadiens, les Ballets Jazz de Montréal, Les Ballets Russes, Salsa Etcetera, l'Academia de Flamenco, le Studio Nova, l'École de Danse Louise-Lapierre, le Studio Bizz; and with renowned instructors such as Ginette Boutin, Michel Conte, Yoyo DiAma, Eddy Toussaint, Lynn Simonson, Siona Jackson, Roberto Campanella, Tasha Lawson and the Troupe Stealfocus (Céline Dion's dancers).
Sophie is also a member of A.N.I.E. (Association Nationale des Intervenants en Entraînement) and is a certified trainer in Pilates, Power Yoga, Ballon-Exercice and Ballet-Body.
To improve her training skills, maintain her fitness and keep abreast with new trends, Sophie participates in different professional-development workshops on a regular basis
.